Crome Products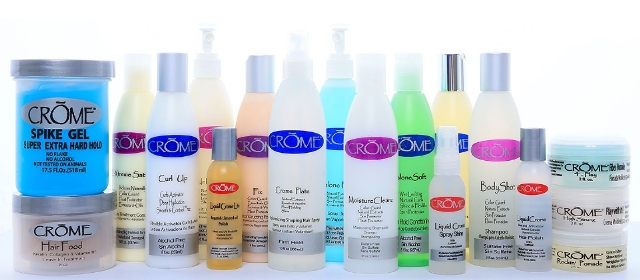 From the moment you first experience Crome, you will share the dream that is our reality. A new world in hair care that can reveal new heights of quality and style. See how adding scents and powerful formulas just can't compare to the mainstream brands. Crome creates perfection and success.
Crome Hair Care Complete Line:
Crome Moisture Cleanz Shampoo
Crome Body Shot Shampoo
Crome Conditioners / Treatments:
Crome Hair Food (Leave In Keratin & Collagen Treatment)
Crome Smooth (Daily) Conditioner

Crome Blone Soft Gel (Wet Look)
Crome Blone Hard Gel (Flexible & Styling)
Crome Spike Gel (Super Extra Hard No Alcohol Hold)
Crome 4-Play (Fiber Pomade)
Crome Curl Up (Curl Activator)
Crome Flat Line
Crome High Strung (Designer Putty)
Crome Liquid Crome (Argan Oil Polish)
Crome Liquid Crome Polish (Heat & UV Protector)
Crome Rockin' Pomade
Crome Pumps:
Crome Gallon Pump
Crome Liter Pump
Salon proprietors interested in Crome Products please e-mail or visit our professional site salontoolspro.com for more information.

We are your online source for Markham Products, Crome Hair Care and various salon tools. Our new store is a lot easier to navigate, re-ordering your favorite products is so much easier and we are now mobile device (phone, pad) friendly. When you sign up as a "new customer" (which is optional), you will have access to your order history, track your packages, "save items for later" for items you would like to purchases in the future and save your credit card info for faster check outs on your next visit.

We want you to be 100% happy with all your purchases from us. From our doorstep to yours, you can rest assured that you are doing business with a reputable company that has been providing an environment for healthy hair in El Paso, Texas since 1973. All major credit cards and PayPal are accepted. Phone orders are also accepted Tuesday - Friday from 10am - 5pm (MT) at our toll free line 844-800-5380. Shipping is always free with orders over $16.00.




Markham Salons
2200 Yarbrough D
El Paso, TX 79925
915-592-0839