NovaLash Services
Visit our NovaLash website at www.novalash915.com
NovaLash Lash Extensions are a glamorous new way to extend the length and thickness of natural eyelashes, and are a practical, convenient and beautiful alternative to the daily use of mascara. Unlike traditional false lashes, NovaLash lash extensions are the first innovation in lash lengthening that can be worn daily, without nightly removal. Because each tapered, synthetic lash is bonded to a single natural lash, the final result is of effortless glamour and difficult to detect even close up.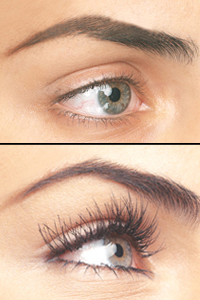 Prices
NovaLash Full Set (Initial Application) $200

NovaLash American Volume Full Set (Initial Application) $260

NovaLash Fills from $50

NovaLash American Volume Fills from $65

Removal from $50
Useful NovaLash Information (we tell our clients)
Below is some useful information that we send to new customers that are inquiring about NovaLash. I think you will find all the information you need below. If we can further assist you, please let us know.
We have two certified NovaLash techs. Our two techs have gone through extensive training with NovaLash and have been applying lashes for over seven years now.
The initial (Full Set) application is $200 (NovaLash American Volume is slightly higher) and takes about 1 1/2 - 2 hours. We do ask for a deposit on all full sets.
In order to maintain your investment, fills (which are needed to maintain your lashes) are recommended every 2-4 weeks. As your lashes grow, fills are basically reattaching and re-securing the artificial lash on your own natural lash. If you don't, they will simply shed. Fills start at $50 (NovaLash American Volume is slightly higher) and take about 45 - 60 minutes. If you wait longer than the recommended 2-4 weeks, the price may slightly increase due to the fact that more maintenance may be needed.
There are various sizes and textures. NovaLash is the only lash company using a patented medical grade adhesive. We also carry cleansing pads, mascaras and eyeliners by NovaLash for maintaining your lashes. As always, consultations are complimentary.




Markham Salons
2200 Yarbrough D
El Paso, TX 79925
915-592-0839